As PR Officer for Unique Home Stays, a marketing and booking agent for luxury privately owned homes across the UK, my role entailed writing press releases, pitching to the press and working alongside bloggers and celebrities to arrange press stays. Below are a selection of articles and blogs I wrote for the company.
Article written for Manor Magazine November 2016
Unique Home Stays celebrated 15 years of providing exclusive, luxury accommodation to discerning travellers from the UK and beyond.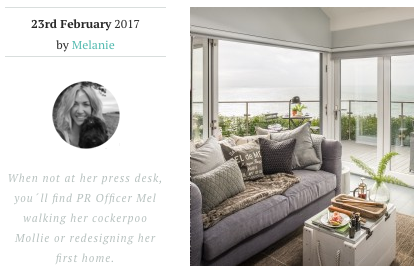 Here at Unique Home Stays we love nothing more than a dazzling interiors revival. This month there was a flurry of excitement when the new photographs of one of our favourite luxury lovenests Moontide arrived. Join us for a house tour of the Moontide makeover.
The live action release of Disney's Beauty and The Beast will be hitting theatres on March 17th, but it´s not the talking candelabras that's captured our attention, it´s that wondrous castle in all its majesty that makes this particular romance an unforgettable tale, as old as time.
Cosy Pre-Christmas Escapes for Two
The penultimate month is upon us! The clocks have turned back, we're adjusting to the reality that 6pm bears resemblance to 10pm and what seems to have been a lengthy decent to Christmas has suddenly gained momentum, leaving us to ask the question - mid-November, how did you get here so fast?
As the autumnal darkness gently creeps in and the air turns cooler, there's only one comfort that keeps me from booking a six month plane journey to finer climates and that's my tradition of creating a warm cosy nest - safely burrowed indoors.