My Birth Story
I lost count of the number of birth stories I read during my pregnancy, especially as my due date came and went and the term induction was thrown around. I found myself frantically reading other peoples birth stories, I wasn't looking for any advice in particular it's just that I was so desperate to have my own story and the more overdue I became, the more "any baby yet" messages I received the further away my birth story felt, I honestly thought I would be pregnant forever!
The "plan" was to have a homebirth, I loved the idea of being in the comfort of our townhouse in the heart of Newquay, our full vinyl collection to hand for music to suite the mood, mollie our puppy flopping around the house looking cute and comforting and three floors to move around on - to contract and cluck and eventually meet our little boy cosying up in our bed at home once it was all over. That was my ideal scenario - my vision.... the reality is a little bit more complex, so much so, that my birth story has been divided into three phases- as quite rightly put by the Rolling Stones, you can't always get what you want and that seemed to be the running theme during my labour!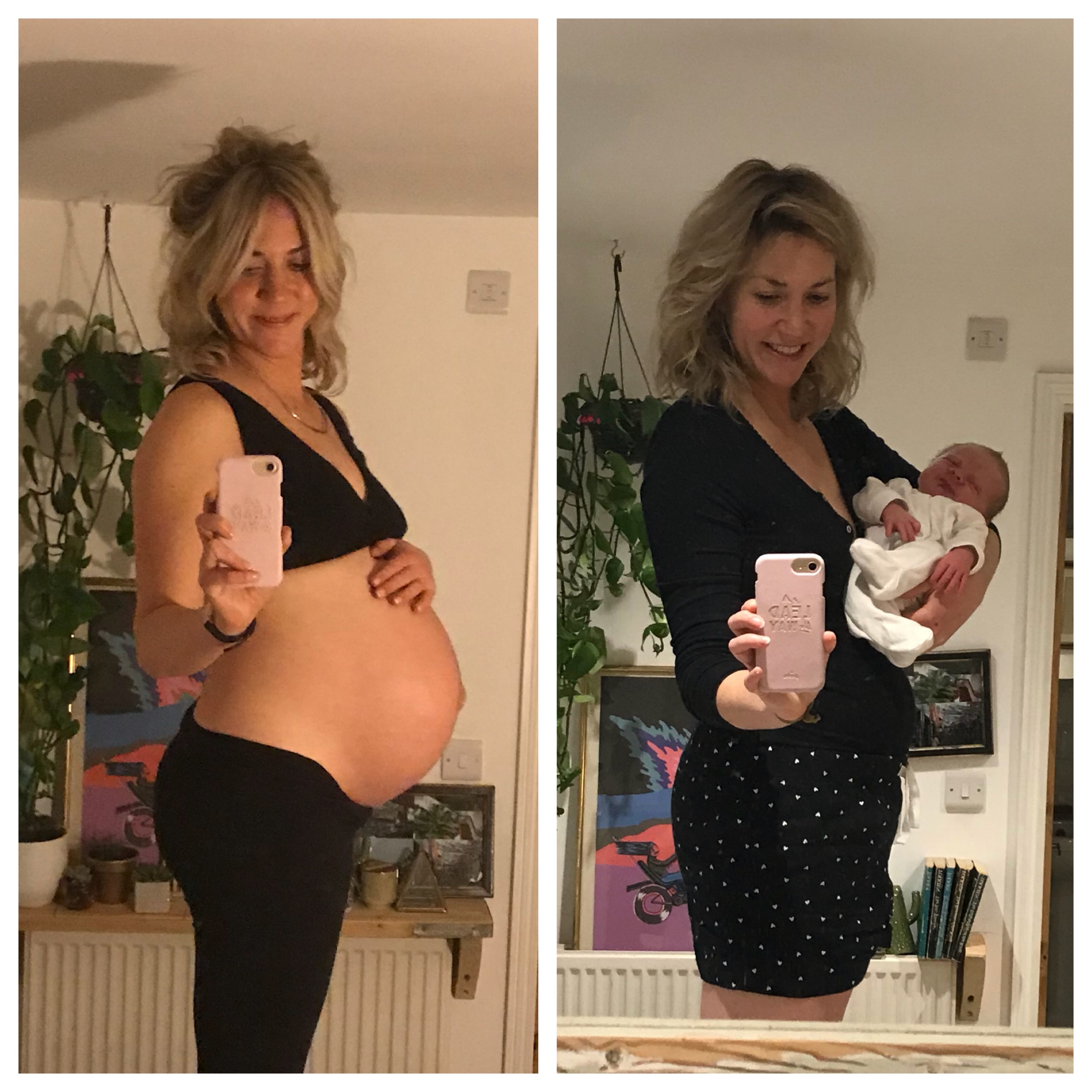 Phase 1
It's seems so novel that as I began writing my very own birth story - it was exactly a week ago almost to the hour that I felt my first contraction. I'd been to Watergate Bay hotel with my mum for lunch and in the evening we'd had a family dinner where we sat around the table with Jamie's folks, his sister Evie and my mum having the "to be or not to be induced" discussions in great lengths, it's fair to say we ended dinner that night feeling a little jaded that the plans for our home birth were slowly drifting further away. My fears of being in a hospital were fast approaching reality. I was to be induced on the Thursday afternoon so you can imagine my elation when at 23.09 on that Tuesday evening I felt my first contraction. Jamie and I were just getting into bed he'd surfed and done boot camp in the day so I suggested he get a little sleep before we got in deep!
I went downstairs, lit candles, put Bonobo on the vinyl player and used an app on my phone to measure my contractions, they rolled in thick and fast no casual lead up where you can go for a stroll in between like I'd read about ! Between 11pm and 1 am they were coming every 2 minutes - I'd planned to use a tens machine as I loved the idea of redirecting the pain, but as I frantically unpacked it mid-contraction the battery was dead and the new battery was corroded - this was the first of many things that didn't go quite go to plan! At this point (1am) I called the midwife to let her know I was in early labour, she said to continue monitoring for two hours then call back so I went upstairs to get Jamie, I'd done the first two hours alone so he could get a little sleep but I needed some company as the pain was more acute with each contraction. We sat hugging on the sofa Jamie helped me breath heavily pushing through the contractions. Our cockerpoo Mollie watched us with a slightly concerned look on her face and as Jamie changed the music to suite the moods we shared a moment of togetherness, excitement and anticipation that this was it, we were in labour.
The midwife arrived and I continued to heavily breath through the contractions it was around 6am when the pain really picked up that I asked the midwife for the gas and air. At first I felt dizzy and was unsure of the change but soon enough that magic air was taking the edge off and I moved around our home shifting positions trying my hardest to change the focus of the pain by squating or lunging I think at one point I was press upping against the living room table!
At 8am the midwives changed shift, two arrived called Zoe and Helena, they sat around the table writing in my notes, every 15 minutes they checked my blood pressure and baby's heartbeat, when they checked how dilated I was - I'd reached 4 cm in the 9 hours that I'd been labouring so I continued to shift around our house which is open plan downstairs - I would try to find relaxing pauses in various positions inbetween each contraction. The pain came in waves, and rose in severe peaks, I remember Jamie's supportive words helping me to reach the sharpest point and then relax into the descent. By 11 Helena the midwife suggested breaking my waters could help - using what looked like a sharp knitting needle and a surprisingly forceful amount of prodding and jabbing she pierced the amniotic sac, and the forewaters were slowly opened.
I can only describe those 12 hours I laboured at home as gruelling and relentless but I felt strong, I felt supported with Jamie and my mum by my side, Jinan ideal world our little boy would have eventually popped out here.... however - our little Benj had other plans, by 11.30 I was 8cm but ha had corkscrewed in my pelvis and was looking up lying back to back with me. Hearing anything negative after 12 hours of labour was dis-heartening and I felt like I needed some more support so the ambulance arrived and we took the journey to Treliske Hospital.
Phase 2
The ambulance journey was pretty bleak as I was sat so rigidly and couldn't flail around to help ease the contractions like I had been at home. I remember the gas and air that I had so tentatively been sucking on at the start was now my absolute life line, deep strong inhalation's for each contractions were essential. Looking back the pain was never numbed by the gas and air I think my mental state was just completely warped by it to help deal with the pain. Jamie had quite a few sneaky tokes as the day went on and he said the strength was seriously overpowering - a throw back to his noss balloon days at uni!
When we arrived I was given options, what pain relief I chose would decide where I would be placed, on reflection this was quite a pivitol moment as I think I was still of the mindset that I wanted to birth without pain relief but the reality was I needed it, I was exhausted. However, the new birthing unit had a room available and so the temptation to submurse myself in warm water won and thats where I continue labouring.
The weightlessness of being in water was such a welcome relief - the unit has a real sense of calm and for another four hours I slogged through contraction after contraction chomping down on the gas an air as I bobbed and squirmed in the pool. When the time finally came to check how dilated I was the news was not good... Benji was still back to back and his head had moved back up the pelvis meaning I had gone from 8cm back upto 6cm and my cervix had become quite swollen in the process. I can't tell you the disappointment in that moment, moving backwards just wasn't an option, I could only cope with such pain and discomfort if I knew I'd be getting closer to meeting my boy but backwards? Backwards was heartbreaking.
The options that were presented were to with go another 5 hours in the pool till my next check FIVE HOURS?! Or discuss pain relief. The thought of five more hours in the pool was enough to finish me so I asked for them to find me a bed on the other ward so I could have some much needed pain relief. The problem was there just wasn't a bed available and while Amy our lovely midwife tried so hard to get us there quicker I had to slog out another three and a half hours in the pool before there was one available. Those three hours were my lowest most difficult part of the labour, my body was completely exhausted, I couldn't eat anything to help my energy levels and the pool kept getting cold - luckily Jamie kept topping up with hot water but in those three hours I'm muttered the words I just might die here - so dramatic! Luckily my brilliant mum has been a midwife for 40 years so these defeatist words she's heard many labouring women mutter!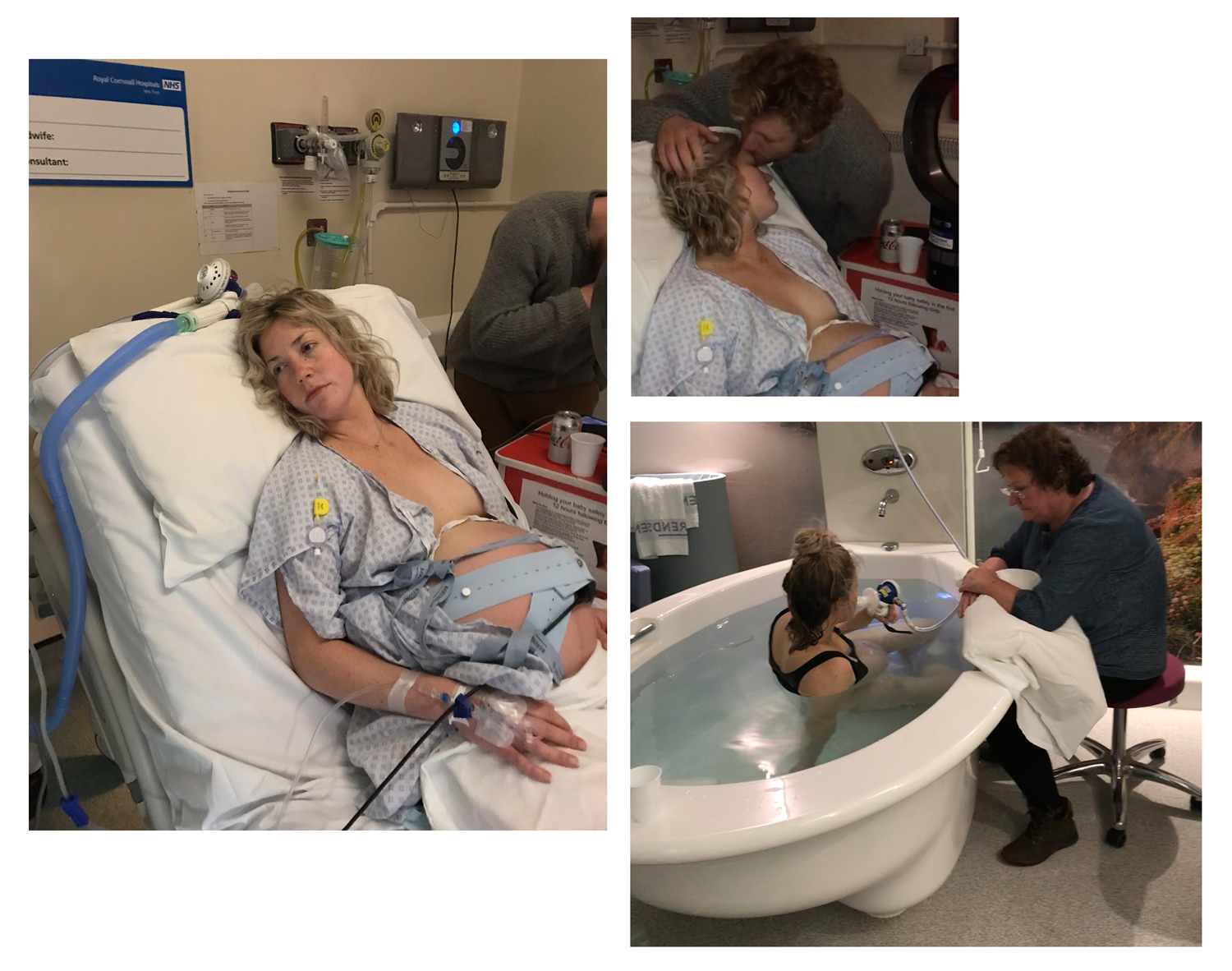 Birth Pool followed by Epidural
Phase 3
Finally we were wheeled out of the new birthing unit and back into the older part of the hospital to begin the epidural process, I remember feeling relieved to have some help on its way but one of the hardest parts of my labour was still contracting whilst having to stay still as the epidural was going into my spine. Once the drugs started to take effect my contractions slowed considerably and so I was given a stimulant to encourage there contractions, however this caused Benji's heart rate to drop at a dangerously low level, my main memory of this point is watching the pail, slightly terrified faces of Jamie and my mum staring at the heart rate monitor and every so often, a doctor would come rushing into the room and change the dose to ensure his heart rate returned to normal. Over a four hour period, this process continued until decisions were to be made, my midwife left her shift and for the fourth time I met a new one! The doctor gave me two options, to continue trying to encourage my contractions in the hope of having a natural labour, or to have a c-section.
Both options were daunting, I was beyond exhausted and being numb from the waist down was such a bizarre feeling, I felt as though all my power had been drained. Mum and the midwife were concerned that Benji's heart rate wasn't consistent and that a c-section was the safest option. In my mind, a c-section was so far from my original plan but also felt like the only option, and so off we went to theatre. Jamie was given theatre-blues, I gave mum a big kiss good-bye, fighting back how terrified I was and off we went, wheeled to yet another room.
I though that fear would have consumed me here but actually I was so relieved, the doctor topped up the epidural, it took a while to feel completely numb on my tummy, with every prick test I could feel them and was finally told that I had the maximum amount before having to be put to sleep, I decided it was more of a discomforting feeling rather than pain and that I 'd rather be awake. I remember Justin Timberlake was on the radio when I first heard Benji cry, tears streamed down my face and an enormous feeling of utter elation came over me - he was alive, he was crying and he was in the room with us- our son!
Everything after that moment was insignificant, all I wanted to do was look at our boy, I had to be stitched up, three layers of stitching doesn't take 5 minutes, but soon enough I was wheeled out of theatre, my mummy was holding Benji in her arms when I saw him for the second time which is such a special memory for me, her beaming smile holding her grandson. I'll never forget just how happy I was that we'd done it, we had a healthy baby beside us, that cup of tea and buttered toast was the best food I'd ever eaten, 30 hours after my first contraction I could eat, I could relax and I could feed my son for the first time, who latched on straight away and joined us in a much needed refuel.
Love at first sight is an understatement, there's nothing else in my life that compared to the feeling of becoming a mum, it wasn't how I'd planned it and it has taken three months of recovery before feeling normal again, but my god, its worth it, and I have my very own birth story.
I have always known how amazing midwives are, my mum has loved her career in midwifery and for the latter year became a successful senior leader, her accomplishments have been a benchmark for me growing up, learning that hard work and doing what you love pays dividends. Having now been in the care of a midwife (well five to be exact!) I can honestly hand on heart say that these women are incredible, each midwife I spent my labour with was caring and professional, offering support and guidance, I am forever grateful to you all.